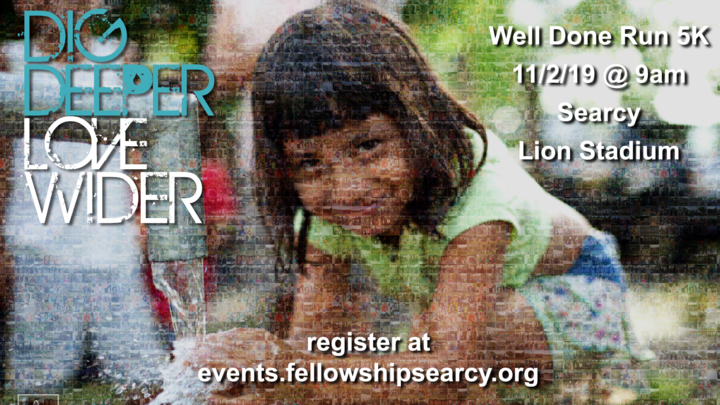 The 6th Annual Well Done Run
Dates & Times
2 Nov 2019

9:00am - 11:00pm
Attendee Types
Adults (18 and up)

$30

College

$20

Kids (up to 17)

$15
Details
In response to learning that over 700 million people around the world lack access to clean water and all of the different facets of life that are effected by unclean water; Fellowship Bible Church partnered with Living Water International to make a difference by starting a city-wide 5k called the Well Done Run, because if we get enough participants and sponsors, the Well will be done!
The Well Done Run is a unique 5k in that not only do all of the proceeds from the race go directly to help those that lack access to clean water, but all race participants will also experience a glimpse of what it is like to "walk in the shoes" of those that do not have access to clean water as each race participant begins the race with an empty milk jug and then has to fill up their milk jug with dirty water at the halfway point and then walk or run back to the finish line with it. Along the race trail, participants also learn more about the water crisis as they read facts that have been chalked up on the course and see pictures of all of the villages that have been impacted to date through the Well Done Run! This year's Well Done Run will benefit those that live without access to clean water in India.
The Well Done Run is a really fun family event to take part in each year as there is free Chick-Fil-A coffee, bounce houses for the kids, face painting, a fire truck, a dunk tank, a free Wild Sweet Williams Scone for each race participant, as well as a free t-shirt for all participants that sign-up before October 14th!
You do not need to be a runner to participate either, as walkers and those strolling with their kiddos are invited and welcome to participate in the fun!! Please register your whole family for meaningful morning of fun, laughter, and purpose by signing up for this year's race!